Dieser Artikel befindet sich im Archiv!
Aktuelles | Bareis, Gabriele | 25.10.2020 – 31.01.2021
Maskenbilder
Let´s make a masked selfie surprise!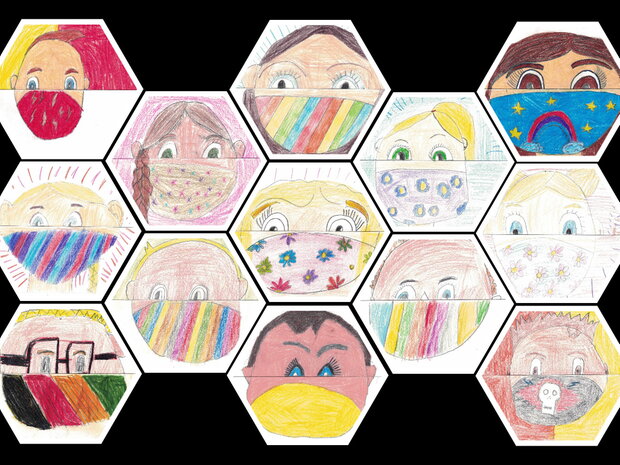 Who is that amazing kid behind the mask? It´s YOU!
Why do we wear our masks? We wear our masks
to keep us and our friends safe!
But we cannot see the smile in our face.
So we created a sort of self-portrait:
The face and the person behind the mask.
We looked for words to describe us.
Our friends helped to do that. We wrote down a few of our qualities.
And soon we could start to draw the mask and colour it.
We can sing as well. But we have to keep the distance. We choose an easy song we could sing by heart. We stood on a white mark to keep the distance and our teacher went to each of us recording the sound of our voices.
Nowe we had pictures and a song.
So we created a little video about us: class 4a
We wish you much fun watching the video:
MASKED SELF-PORTRAITS class 4a https://youtu.be/mgDL4pN7CMs
If you want to learn more.

Look here:

Ich bin / Du bist / Er ist / Sie ist …

I am / You are / He is / She is …

schüchtern, zurückhaltend

shy

ruhig

quiet

lebhaft

lively

aktiv

active

locker

easygoing

offen, kontaktfreudig

outgoing

nett

nice

freundlich

friendly

lustig

funny

fröhlich

happy

sportlich

athletic

gesprächig

chatty

froh

cheerful
This video helped us to create our pictures.
If you like to watch the video. You will find it with this address:
Let´s make a masked selfie surprise! https://youtu.be/TgaQUGo3AUM